All Things Rural began breeding pygmy goats in 2004 and it was then that the 'Allthings' herd name was born.
We breed all year round so nearly always have kids available for sale.  Please note we only sell goats in pairs as a minimum unless they are going to an existing herd.
For more information or to book an appointment to come and view our goats then please contact Laura on 07795 245133 or [email protected]
NEXT KIDS DUE: From February 2nd 2016
Our first kids of 2016 have been born!  We have 2 wethers that will be sold as a pair and will go up for sale approximately the first week in February.  Watch this space!
Kids go up for sale from 3 weeks old and then go to their new homes at 12 weeks (weaning age).  All kids will grow horns.  Disbudding not available.
FOR REHOMING
| | |
| --- | --- |
| Name: | Allthings Bess |
| D.O.B: | Approx 2008 |
| Ready approx: | Now |
| Sex: | Retired nanny – Strictly not for breeding |
| Colour: | Black |
| Type: | Pygmy Goat |
| Breeding: | Bess is a great goat that is very happy and friendly.  She has retired from breeding now as she has a few teeth issues and struggles to eat hay.  She is keeping a healthy weight as we have her diet sorted but she does need feeding at regular intervals throughout the day.  Taking this into account, she will need to be homed with someone that is at home throughout the day.  She is also very sociable so will need to be with other friendly goats that won't bully her.  She will reward your hard work with being a fantastic pet. |
| Price: | POA |
Contact: 07795 245133 or [email protected]
FOR SALE
| | |
| --- | --- |
| Name: | Allthings Giggles |
| D.O.B: | 26/04/2011 |
| Ready approx: | Now |
| Sex: | Nanny |
| Colour: | White and Tan |
| Type: | Pygmy X |
| Breeding: | Sire: Allthings Braveheart, Dam: Honey  |
| Price: | £130 |
Contact: 07795 245133 or [email protected]
SOLD
| | |
| --- | --- |
| Name: | Allthings Ozwald |
| D.O.B: | 27/10/15 |
| Ready approx: | 19/01/16 |
| Sex: | Wether |
| Colour: | Black |
| Type: | Registered Pygmy Goat |
| Breeding: | Sire: Allthings Hercules,  Dam: Springfield Holly (Mary) |
| Price: | £130 |
Contact: 07795 245133 or [email protected]
FOR SALE
| | |
| --- | --- |
| Name: | Zebedee |
| D.O.B: | 01/09/2007 |
| Ready approx: | Now |
| Sex: | Nanny |
| Colour: | Brown and White |
| Type: | 3/4 Pygmy |
| Breeding: | Zebedee has lots of kids for us but due to a slight herd reduction, she is up for sale.  She is a nervous goat so would appreciate a new home to have more time spent time with her. |
| Price: | £50 |
Contact: 07795 245133 or [email protected]
SOLD
| | |
| --- | --- |
| Name: | Allthings Percy and Allthings Pickles |
| D.O.B: | 10/01/16, 17/01/16 |
| Ready approx: | 10/04/16 |
| Sex: | Wethers |
| Colour: | Grey and Tan, Black |
| Type: | Pygmy Goat |
| Breeding: | Percy – Sire: Allthings Braveheart, Dam: Allthings Cameo, Pickles – Sire: Allthings Braveheart, Dam: Tabitha |
| Price: | £260 for the pair |
Contact: 07795 245133 or [email protected]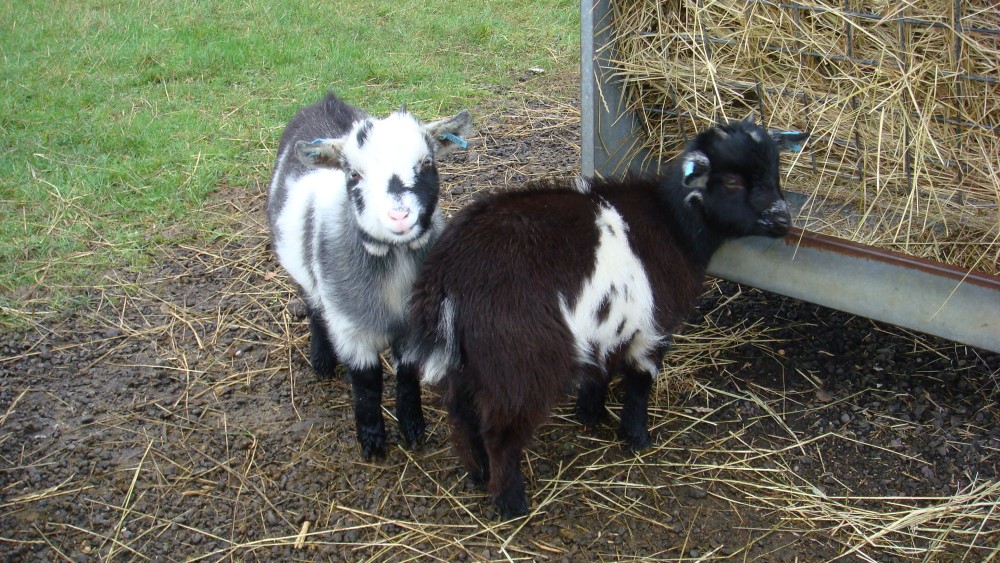 FOR SALE
| | |
| --- | --- |
| Name: | Allthings Oasis and Allthings Oakley |
| D.O.B: | 23/08/15 |
| Ready approx: | 15/11/15 |
| Sex: | Nanny |
| Colour: | Black and White, Grey and White |
| Type: | Pygmy Goat |
| Breeding: | Oasis – Sire: Allthings Braveheart, Dam: Allthings Eugenie Oakley – Sire: Allthings Braveheart, Dam: Allthings Charleston |
| Price: | £460 for the pair |
Contact: 07795 245133 or [email protected]
FOR SALE
| | |
| --- | --- |
| Name: | Maesgwyn Siwan |
| D.O.B: | 17/03/06 |
| Ready approx: | Now |
| Sex: | Retired Nanny |
| Colour: | Tri-coloured |
| Type: | Registered Pygmy Goat |
| Breeding: | Sire: Marshview Trojan, Dam: Maesgwyn Seren |
| Price: | POA |
Contact: 07795 245133 or [email protected]
Contact us for more information