June 2021
And Breathe…
As the summer months roll in and our attention turns to the upcoming catch crop period, it is time to reflect on yet another busy season. Just five months ago, we could be forgiven for our anxiousness going into the new year. Covid cases were soaring in December, and the industry was bracing for the impact of new Brexit legislation, providing us with yet more difficult challenges. Nevertheless, we have been as busy as ever! The new year brought turning fortunes; covid cases were in decline, the country started unlocking and we began to acclimatise to the new Brexit regulations.
To continue reading our end of spring season round up, please click HERE
May 2021
Our ReNatura Bee Meadow giveaway to schools and groups has gone well this spring and we very much look forward to seeing pics of all the lovely wildflowers and grasses grow. 
We believe getting children involved in nature from a young age is not only great for both their physical and mental health but also engaging the next generation in looking after the planet!
April 2021
Everything always looks better when the sun's shining!  Some of the beautiful crops we have growing to harvest for seed…Snakehead Fritillary, Marsh Marigold, Wild Daffodil and Primrose!
March 2021
The trial plots at Freudenberger are growing well and looking great!
February 2021
We now have a brand new packing machine for large runs of small packets!  This should make it much quicker and more efficient.  Not sure it will stay this clean and shiny for long! 
We are now ready to take your orders for 
Betimo Fodder Beet
50,000 seed packs
Vibrance & Tachigaren
Please call us on 01789 763159 or email [email protected]!
January 2021
Plenty of seed is arriving in our warehouse ready for the upcoming season!
November 2020
We are busy shipping in seed for next year to avoid any delays in our spring 2021 production!
October 2020
And there you have it…a natural patchwork quilt! The trial plots at Freudenberger from the sky…what a view!
September 2020
The trial plots of Phacelia (left) and Linseed (below) at Freudenberger are growing well and looking great!
August 2020
Italian and Westerwolds blend are in stock and ready to go!
July 2020
Here are some of the trial plots of some of our wildflower mixtures on our mixture page.  Please note that some of these are not in flower, as the photos were all taken at one time and some mixes were not at their optimum. 
On display here are (Left to right per line); ATG Flora 1 – ATG Flora 2 – ATG Flora 3 – ATG Flora 4, ATG Flora 5 – ATG Flora 7 – ATG Flora 8 – ATG Flora 9, ATG Flora 11 – ATG Flora 13 – ATG Flora 14 – Butterfly and Bee.
For a detailed look at our standard wildflower mixtures, please see HERE.
June 2020
Our Red Campion harvesting is under way!
For more information on our wildflower production and harvesting, please see HERE
May 2020
As we all know in this modern world, technology is at the forefront of most businesses these days. Luckily our computers are kept up and running and these guys are always at the end of the phone with any computer related issues when we need them. Thanks Jordan and the team at SimplifyIT!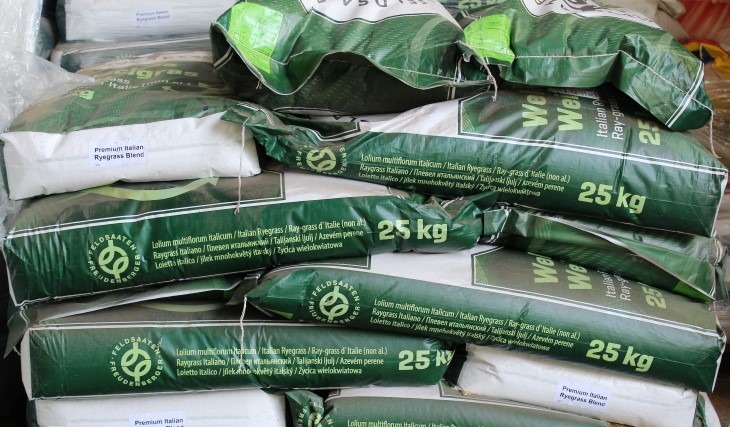 February 2020
We have Premium Italian Ryegrass Blend in stock and ready to go!
January 2020
With the arrival of the new year and the new decade, comes the arrival of our new ELECTRIC forklifts.  They are a more eco friendly way of getting around our warehouse, compared to the old diesel ones.  Helping to save the planet, one step at a time!
2019
We have added a NEW turning circle and parking area for lorries, making loading and turning easier.
We have also just finished building our NEW wildflower area to accommodate the extra stocks we are carrying from increasing our production and to enable us to carry an even wider range than before!  Our team can manage all orders from packing envelopes to large mixtures.
Stubble Turnips in Stock
We currently have Vollenda, Samson and Delilah Stubble Turnips in stock.
Vollenda is a large leafed, highly digestible variety with good early vigour and good disease resistance.  It retains palatability throughout the season and is noted for its yield, speed of growth and bolting resistance.
Samson is a tetraploid variety with large bulb.  It is high yielding and very palatable.
Delilah is the highest yielding variety with large bulb and good disease resistance.  It provides quality forage and has excellent digestibility.
NEW Production Plant 5 2018!
For more information, visit our 'About Us' page https://www.allthingsrural.co.uk/about-us/
From an agricultural view
The prolonged period of drought we experienced in the summer of 2018 did not just affect crop production in the UK, but also throughout Europe. The hot weather was so extreme, that between 15th April and October, not a single drop of rain fell in Scandinavia. Considering that 90% of Ryegrass production comes from Northern Europe (Poland, Germany, Netherlands and Scandinavia) this has had a profound impact on harvests. Studies show that crop yields fell approximately 15% -20,000T in 2018. The USA do not produce Lolium perenne for feeding purposes so cannot help. Breeders and growers both suffered as grassland dried out and died and never made it to the heading stage. Not only has this left the 2019 seed stocks very low for some species, farmers also bought up existing stocks of Hybrid Ryegrass, Italian Ryegrass and Perennial Ryegrass for cutting and grazing purposes as other feed crops, such as Maize, had failed due to drying out in the fields and the yields were poor. Stocks of certain species and varieties are currently empty. Large seed producers have cut down their contracted quantities as a result of the situation as demand struggles to be met and, in some cases, simply cannot be met. The 'knock on' effect means that crop production for 2019 will suffer as a consequence and the situation is only expected to improve after harvest 2020.
From an amenity view
The good news is stocks of amenity Perennial Ryegrass, has not been affected as hard as the argic species. Pitches and lawns did, of course, suffer through the drought just as much as the fields, but stocks of seeds ready to be sown are somewhat healthier – although some species, such as Chewings Fescue and Agrostis tenuis will be in short supply. Furthermore, a great demand is expected for spring 2019 for overseeding and repair purposes.
Buyers are advised to order early to avoid disappointment!